Catherine Pinnock MA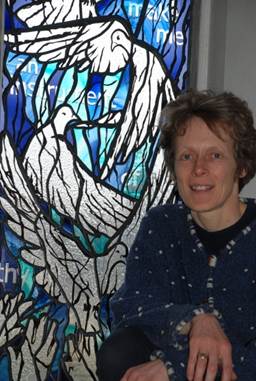 Inspired at an early age by the works of contemporary stained glass artist Alan Younger, and subsequently by artists such as Gabriel Loire, Brother Gilbert Taylor, Penelope Neave, Jane Gray and Leifur Breidfjörd, I graduated from Birmingham Institute of Art and Design in 1986 with an honours degree in Three Dimensional Design - Ceramics with Glass and formed my own glass studio in 1998.
Since then, I have designed and installed many contemporary glass commissions and seen my work develop professionally, with the addition of an MA in Surface Design in 2006, in which I researched fusing and kiln forming glass.
I have also run numerous courses in stained glass for different age groups and have been an artist-in-residence in schools and other settings on several occasions. I am occasionally invited to speak about my work and have delivered a lecture in Reading on a yearly basis for the past five years.
In addition I am currently engaged in running a weekly creative arts group for people who have links with ExtraCare Retirement Village in New Oscott, Sutton Coldfield. This group gives people the chance to discover and develop skills and creative potential they haven't yet had chance to realize.
I run workshops for children and adults of all ages in many aspects of creative/spiritual art.
The following indicates the areas of work I am involved in:
Ecclesiastical commissions:
Designing nine nave windows for St. James the Great in Shirley, Solihull, West Midlands.
Installation at Birmingham Cathedral:
Light in the Darkness
– October and November, 2010.
Installation at Birmingham Cathedral:
Art and Soul
– June and July, 2010.
Artist in Residency and Tutoring:
Woodlands Infant School, Shirley, Solihull - Three Stained Glass Creation sessions with playwright Ray Speakman, 2012
'The Village', New Oscott, Sutton Coldfield, West Midlands – Creative Arts Tutor on a weekly basis, May 2011 – present day
St Francis, C.E. Primary School, Bournville, Birmingham – Five week stained glass course, 2010
Age Concern, Birmingham, 'Renew You' Creative Arts Tutor, 2008 – 2011
Bournville Junior School, Birmingham – Three week stained glass course, 2005
Braidwood School, Birmingham (for deaf children) – Twelve week stained glass course: panels for the school library windows, 2004
Bishop Perowne School, Worcester – Ten hour course over two days: stained glass panels for school entrance area, 2004
Workshops:
Making stained glass panels – numerous courses, 2003 – present day
Batik Workshop - Birmingham Children's Hospital James Brindley School, as part of the Chaplaincy Spirituality Day, 2013
Stained Glass Hen Party - a workshop for eight people to create a single item together for the bride to keep, 2013
Birmingham Carer's Centre, Colmore Row, Birmingham – five courses, 2009 - 2010
Three banners for St. Thomas Church, St. Giles Church and Hockley Heath Baptist Church with 80 children, 2008
Making fused glass panels – two courses, 2007
St Thomas Church, Hockley Heath, Warwickshire – Two Easter collages with 60 children, 2007
Bournville Infant school – 'How to be a stained glass artist', 2006
Tiverton Junior/Infant School, Selly Oak, Birmingham – 'How to be a stained glass artist', 2004